Home / Blog / Our Review of the Alls Well Mattress
We may receive a commission if you purchase a product we have featured on our site.
Disclosure
All's Well: Ordering, Unpacking, Sleeping and Battling Allergies on the way to A Better Night's Sleep
---
If you are thinking you really need a new mattress, it probably means you've needed one for a while now. Friends or relatives staying at a nearby inn, rather than on your spare bed? Kids showing up in your bed for a snuggle because mom and dad's bed is so cozy? Musty smell in a bedroom? Waking up sorer than the night before? All signs that the mattresses you have in your house aren't working for you, or your kids, or guests.
We find that there are too many choices, and even if you can try out a mattress in a store it is not really possible to know how much you will like it after sleeping on after a week. All the special form fitting coil technology, layers of padding, supportive but juicy jelly filled center of a mattress; pretty irrelevant if it just doesn't feel right to sleep on.
Some Background
We recently started to replace our cough out of warranty mattresses [editor's note: It was ten years old and we bought it at Costco - it is just that comfortable]. I feel like as an older mom, I'm pretty qualified to judge a mattress. My body just doesn't put up with poor support or weird pressure points anymore, so if something isn't right, it doesn't take me months to notice I'm not sleeping well. It is also nice to not be old enough that everything hurts regardless.
The Upsides
Years ago, like 14, I decided memory foam was awesome. Nightly, I try to drift off next to what I'd call an active sleeper. While memory foam doesn't dampen snoring sounds, it's great at absorbing movement, so you can avoid getting jostled by your partner's every move.
Asthma or Dust mite allergy? Memory foam isn't a place where dust mites really like to party. Since they can't burrow in and colonize it, it can help a lot to reduce the amount of dust in a room. That can make a room smell better, without any effort!
Memory foam is also pretty sweet at not making life miserable for side sleepers. Hard, stiff beds make for sore hips, shoulders and generally unhappy back and neck feelings. If I wanted to wake up sore, I could sleep on the floor for free. So there!
Memory foam also makes a great pillow. I have one with the blue cooling bubbles on it. Before that I was a compulsive pillow flipper. Now my pillow always feels cool and supportive. Yay!
The Downsides
Of course, memory foam has its downsides. Most of them can be mitigated with some effort:
Being a dense block of foam, it is heavy, so moving one is a challenge once it is unboxed.
Not that it is great on any mattress, but you really don't want to have to wash pee out of memory foam. As heavy as it is dry…. Bad times. It isn't immune to developing mold either. I solved these problems for us with a good quality water repellant allergy barrier encasement. Liquid doesn't permeate; mold spores can't get in or out. No dust mites, no bed bugs, no dust, sweat or pee smell. All around win.
Allergy encasements work on pillows as well, especially if you don't like that dusty barnyard smell coming from feather pillows.
The early formulations of memory foam would reflect heat. You could get around this with a decent mattress pad, which you probably want anyway just to absorb sweat.
All memory foam is stinky at first. Some memory foam is very stinky. Is it stinky forever? No. If you buy a memory foam mattress, don't throw away your old mattress expecting to just jump right onto the new one the next night. Ideally, open the mattress where you can air it out without having to sleep in the same room with it. I'd give it a couple weeks before putting sheets on it.
We decided our guest room was the ideal place to start, since nobody over 12 years old wanted to stay on our guest bed futon mattress, and so the mattress could air out.
What We Tried
We got the softer memory foam mattres from All's Well. As I think I mentioned before, being a side-sleeper like me or omni-thrasher like my husband you want to get softer memory foam to keep from having pressure points that make your hip or shoulder feel sore or make you contort in your sleep.
What appealed to me about the Allswell mattress is that while it is memory foam, it is more sophisticated than just one big chunk of the same material. The layers within gradually become firmer. I get pain from sciatica (annoying back nerve) from having an early generation memory foam mattress that is just a bit too soft. What I was hoping for was something that really got the balance of soft enough for side sleeping but supportive enough to not cause back pain.
Note: We received a mattress complementary from All's Well for the purposes of this review. As noted in our disclosure we do our best to keep a level head when reviewing products.
What's In The Box
We got the Full Mattress set to the softer side (they have a firm one available for purchase as well) and also two pillows and a set of linens. It came in two boxes via UPS which arrived in…decent shape. Clearly they'd been beat up a bit on the way, but in the end it didn't pose an issue as all items inside were clearly in perfect shape.
When we first got the mattress, it was delivered to the door while we were out. It was a wet day and I was upset the box was damp when we brought it in. Not to fear, the inside contents were completely wrapped in plastic, so no damage done.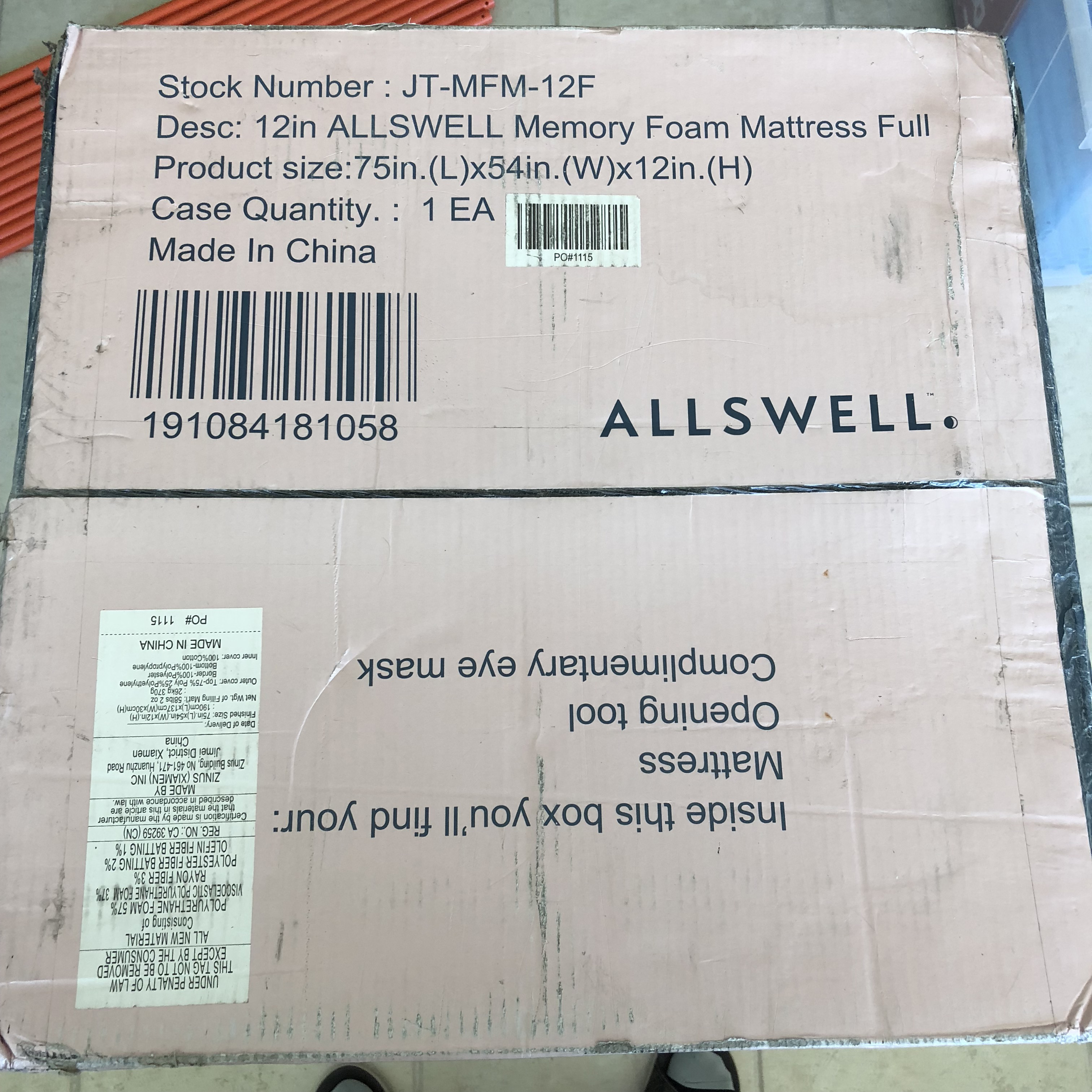 The box for the mattress, which was pretty beat up but not punctured as the cardboard is quite sturdy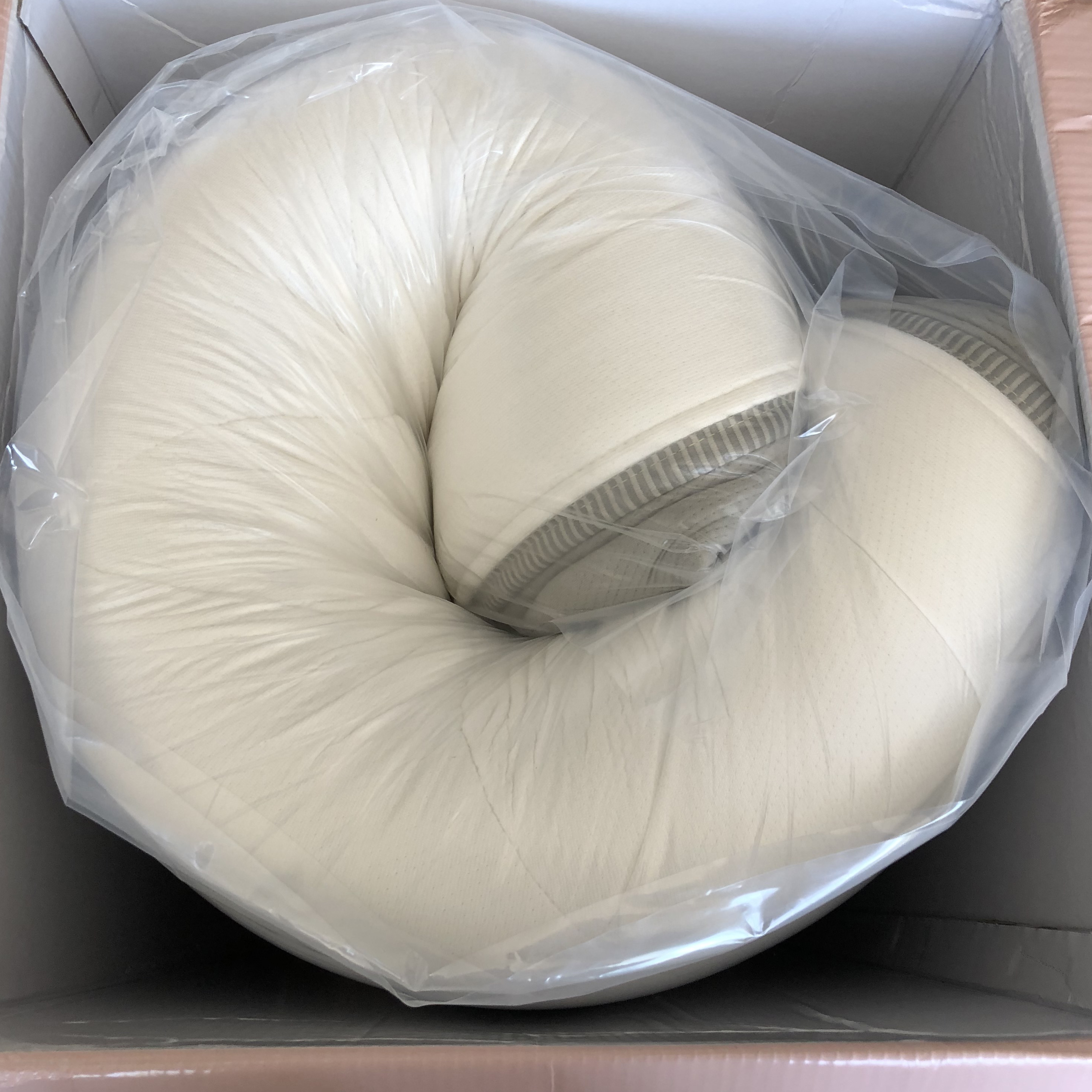 The All's Well Mattress in the Box, completely sealed and quite compact for the size (we got a full-size, 54" wide / 75" long)
Pillows and Linens
We also received a set of two pillows and linens / bedsheets as well for the mattress. The sheets are quite soft and really were a pleasure to sleep on, though the pillows are on the firm side (better for side sleepers).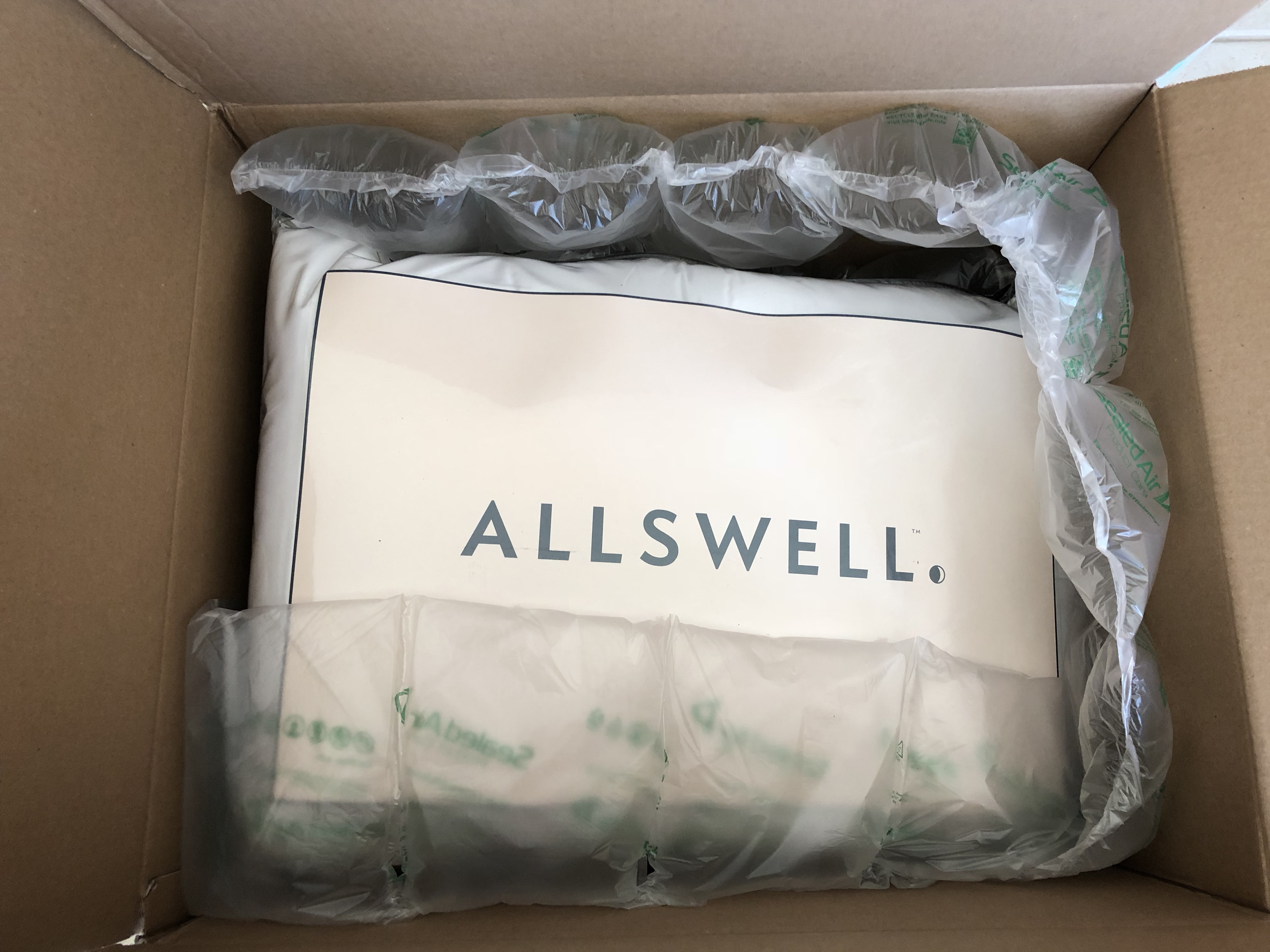 Here's the pillows and linens in the box. Interestingly they were quite padded, and the bags they came in are thick and sealed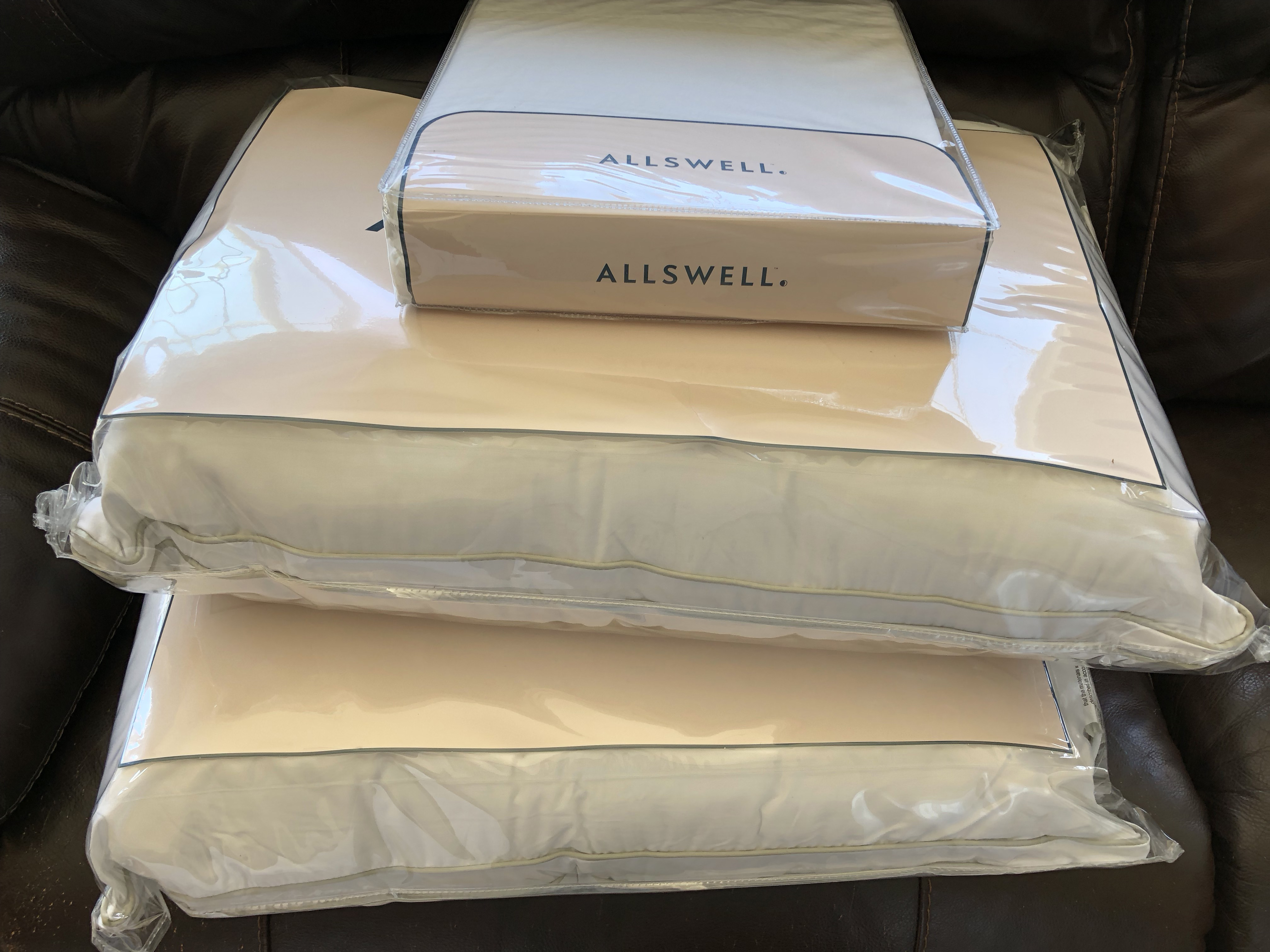 The pillows are surprisingly large for the size of bed (they aren't king size pillows) which we found interesting
Some Perks, Features & Notes
All's Well also offers a combination of free mattress removal, 100-day free trial and 10-year warranty. However, there's a small catch: if you get the free mattress removal, you do waive your free return. Now, for most people that would be totally fine, but bear that in mind when purchasing.
Payment Options
Interestingly, All's Well partners with Affirm to give you a pay over time option. Now, we've not every tried that but here's how it seems to work in this case:
You select "Affirm" at Checkout
You'll be asked to enter some specific information to check your credit (though this check will not affect your score)
Choose to pay over 3, 6 or 12 months
They claim "no hidden fees" and rates of 10-30% APR. In our opinion, don't do it if you don't need it but it is an easy payment option if the cost is steep or you're pressed for cash. They have more details at www.affirm.com/faqs. If you have an experience with Affirm, let us know your thoughts by contacting us
Remember that using Affirm isn't required
Other Features
Plush Topper
This was really nice actually. We've always had another memory foam topper on our 12" memory foam mattress, with the end result being what we thought was cascade of awesome softness. However, the topper on the All's Well is actually pretty much perfect for us, and we aren't itching for more softness.
Cool Top
So, this is interesting. One of us likes warm, the other cool, and so far it has been fairly easy to sleep on for either of us. What we did notice is that the plush topper keeps you a bit cooler than others as it has more air flow, but not too much. The end result is a pretty good balance of temperature.
Firm Option
They have another mattress entirely that is a firm hybrid that we haven't tested yet but will be soon. The hope is that it'll be much more amenable to people that need support at night and don't like memory foam, but we first need to enjoy this one a bit!
Our Impressions
We've been really impressed. The Allswell mattress, a month after I started sleeping on it has performed really well. I feel like I've fallen asleep faster than usual and woken up without soreness. My husband reports waking up fewer times in the night [editor's note: very true!].
It has the look of a traditional mattress, with a cover and stitching, rather than what you usually get with memory foam, which looks a lot more like the couch cushions with the cover off.
The edges of the mattress are more firm than the center, decreasing the roll off factor, and making the bed edges look more crisp when it is made up.
I'd found with other foam surfaces, the surface could absorb heat and store it close to your body, giving you a sleeping-in-a-car-seat feeling. The Allswell foam did a nice job of wicking excess body heat away, keeping the temperature on the mattress pretty cozy.
When the mattress first arrived, we stuck it in the spare room by itself to air out, then went on vacation. I advise airing out any mattress, especially foam, because you're going to be breathing in what it is outgassing if you don't. It was stinky at first but after we got back, I put on the allergy encasement and you really couldn't detect the smell anymore.
Now, the Allswell mattress is by far the best sleep in the house so we're going to phase them in to our other bedrooms next. It's proven to be a very sturdy, well-built mattress we're really impressed with.
We also got some of the bedding from Allswell, because our old sheets were looking worn. Also putting old sheets on a new mattress just feels wrong. The sheets are high thread count, soft and attractive and have held up in the wash without pilling or changing color.
So, with that, what are you waiting for? Give it a try today :)
---