Home / Blog / The Allswell Hybrid Mattress Review
We may receive a commission if you purchase a product we have featured on our site.
Disclosure
Allswell: Hybrid Memory Foam & Spring Mattress Is A Total Winner
---
Earlier in the year we got our first mattress from Allswell - a layered memory foam mattress. As I mentioned before we are side sleepers trying to get a restful night's sleep without waking up sore.
We were able to try out the new Allswell hybrid mattress before it hit the shelves, and had some really positive impressions. The hybrid uses a combination of coils for support and memory foam for softness. The result is a thinner profile mattress that is lighter weight and more firm. If you are accustomed to coils, this will probably feel like a nice version of a bed you have slept on before.
Some Background
We recently started to replace our cough out of warranty mattresses [editor's note: It was ten years old and we bought it at Costco - it is just that comfortable]. I feel like as an older mom, I'm pretty qualified to judge a mattress. My body just doesn't put up with poor support or weird pressure points anymore, so if something isn't right, it doesn't take me months to notice I'm not sleeping well. It is also nice to not be old enough that everything hurts regardless.
Note: We received a mattress complementary from Allswell for the purposes of this review. As noted in our disclosure we do our best to keep a level head when reviewing products.
Unboxing & Setup
The mattress really impressed me from the start. When we got the box I didn't realize it was the mattress. Once I cut it open and realized it was a far more compact and lighter mattress after shooed my cat away so he would stop trying to jump in.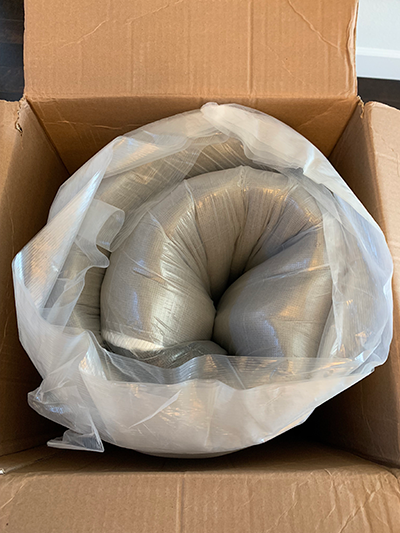 The All's Well Hybrid Mattress in the Box, completely sealed and even though it looks like it is smaller than a Full, it is actually the correct size.
As I'm the one who sets these sort of things up in our household, I really appreciate how compact they've gotten these. It was so compact actually that I thought it could not possibly be the Full that we had asked for - it looked like a twin as it was folded up and then rolled & vacuum sealed.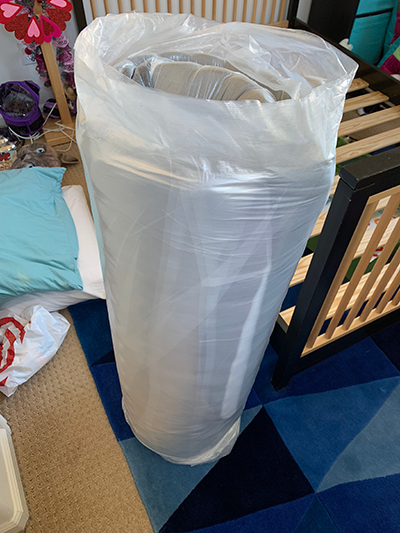 Once you get it out of the box you can see how it has been folded up for shipping to make it easy to extract.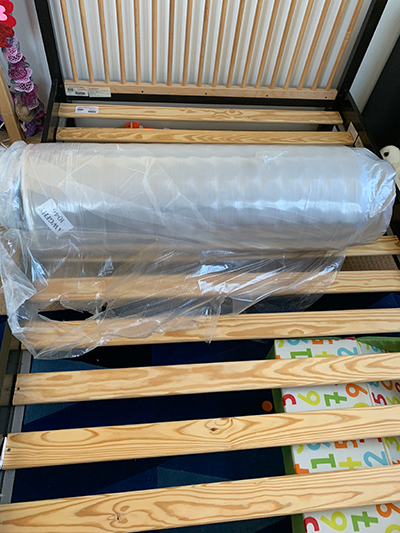 We ended up placing it right on the bed, still rolled up, before we unrolled it and unfolded it - probably saving us time (and back pain)
Actually placing it was a total wonder. It took only moments to unroll it and then we used some scissors to puncture the seal and it quickly inflated. Interestingly, the packaging has more than enough plastic to allow it to inflate fully, which means that you're not dealing with a mutant mattress trying to burst the package like an alien or something. Instead, we had it on the bed in a grand total of four minutes and immediately flopped on it to try it out.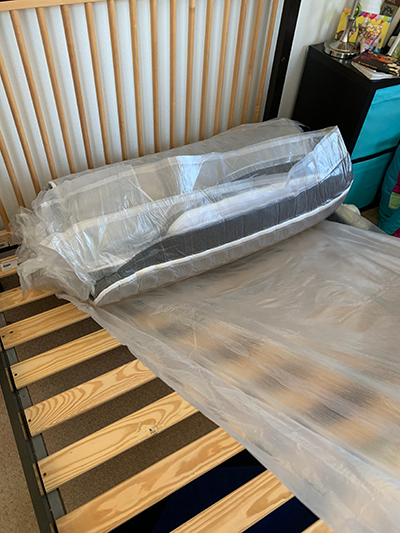 Unrolling is actually quite easy to do - just peel the plastic and it starts rolling on the frame as you pull away.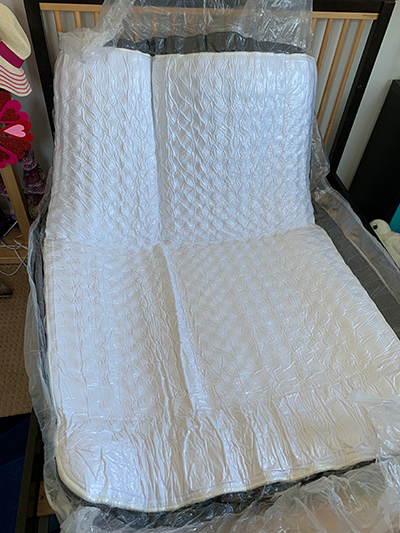 Now you can see how much the vacuum sealing has compacted it down in order to prepare it for shipping.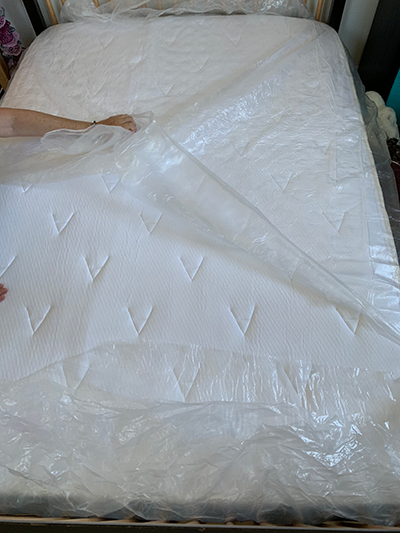 We punctured the seal and unwrapped it, with the mattress regaining full size in moments with little fanfare.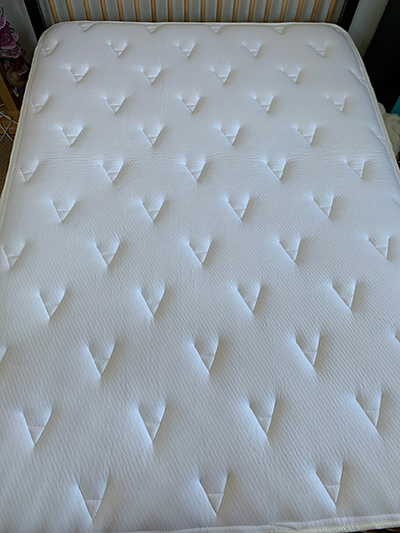 Unpacking, unrolling and unwrapping took a grand total of four minutes and change - the fastest mattress setup we've seen yet.
Purchase An Allswell Mattress Now
Memory Foam vs. Hybrid
We're used to the thud of memory foam absorbing the weight of our bodies as we collapse into bed at night. I appreciate not feeling the vibrations of people or pets moving around on the bed as I sleep. I remember the prodding of bent springs, the shrill creaks caused by my every movement, and the saggy microwaved toast shape of my spring mattress as a kid so I may have needed a bit more convincing that we needed to try a coil matress. We really like the memory foam mattress we already got from Allswell and the technology of the new hybrid blows away the cringe-worthy mattresses of our childhood.
I've said it before; any time I buy anything with memory foam, even pillows, I give them some air-out time. Some things need a few days; some things need weeks. I was prepared to put this mattress in an uninhabited room with a window open. Once we opened it up and rolled away the plastic, I was shocked by how not smelly it was. I've had new sheets that had more initial smell. The bed was ready for use right away!
The other thing I've grown used to with memory foam is a thick marshmallowy shape that doesn't cooperate that well with sheets. The mattresses are also heavy and unwieldy to move around. The new hybrid was much lighter and has an angular, thinner profile. It is easier to make up and would fit into a greater variety of frames. We've been wanting a comfortable trundle bed mattress and this could be a bit thick for that use (ours measures 9 ½ inches at its thickest) but it is really great for a kid's bed or a guest bed.
Our Impressions
The Author
First and foremost, it was very comfortable! It was firm enough for back sleeping and still fine for side sleeping. I was relieved to find it was silent and because had the soft foam layer on the top it didn't shout "I'm a trampoline!" to our kid, the way many hotel beds seem to. The mattress sat very flat, so I didn't feel like I was being rolled to the center or off the edge. When I slept next to my daughter I could detect her moving, but not nearly as much as on a typical spring mattress.
I wish I had this hybrid mattress when I was pregnant. It's supportive, comfortable and easy to get in and out of. It's also more firm and even, so I'd worry less about having a baby laying on it than I would with our old memory foam bed.
Interestingly, it didn't seem to require a box spring - which I appreciate, because box springs give me flashbacks of those squeaky old too-tall beds that need dust ruffles and other stuff I have no time for.
I don't think it needs more than a thin mattress pad to absorb oils that make it through the sheets, and I reflexively put on a mission:allergy encasement on it because we live in a humid area and I hate dust mites. After that I declared ours ready the first night for sleeping - doing that on the same day we got it was a first.
Author's Husband
Hey, wait - I get to add to the review? Ok then!
I really like this mattress. Like, really like it. I was surprised how it gave this lovely balance of firmness and give. I have really broad shoulders and don't realize how much space I take up (my wife sometimes has to rotate me in grocery store aisles so that I don't block everyone). The big surprise was that I could rotate on my side and still feel very comfortable.
Also, my wife and I tend to get up at different times in the morning and a deal-killer on any mattress is if you can easily get jostled or woken up by your spouse. Fortunately this was not a concern at all, a surprising thing for a mattress with springs.
Our original mattress before we reviewed the All's Well Memory Foam Mattress was a 12" Costco memory foam mattress from…wait for it…2006. And then in 2008 we put a memory foam topper on it. Just ludicrous, and as a result I've always thought I wanted a super soft mattress. However, this handily proved me wrong.
Pricing
So how does the Allswell Hybrid stack up in terms of pricing? Well, it starts at a highly competitive $245 which is kind of mind blowing considering the competition. To make it easy, we made a handy-dandy chart for pricing for you!
| Brand | Twin (39W x 75L) | Full (54W x 75L) | Queen (60W x 80L) | King (76W x 80L) |
| --- | --- | --- | --- | --- |
| Allswell | $245 | $315 ($27/month) | $345 ($29/month) | $420 ($35/month) |
| Casper | $350 ($105 More) | $500 ($185 More) | $600 ($255 More) | $700 ($280 More!) |
| Tuft & Needle | $350 ($105 More) | $495 ($180 More) | $595 ($250 More) | $750 ($330 More!) |
While Tuft & Needle and Casper have their good points, I really can't argue with the price and comfort level. Allswell has really made a winner here with a fantastic combination of features, comfort and price point.
Final Thoughts
The Allswell hybrid mattress has quickly earned the title of the new household favorite mattress. We're hoping they expand to making a hybrid in Cal-King size eventually because we're tall and already have that frame.
---